ABOUT FSL DEVELOPMENTS
FSL Developments is one of the only specialists commercial to residential conversion companies in the UK. We not only achieve full planning permission for the scheme, we also design and build to a fixed price and programme of works. We also undertake unique and challenging projects. To date we have completed Theatres, Hospitals, Underground Car parks, Railway Arch Conversions and retail/showroom spaces.
Read More
DISCUSS YOUR PROJECT
Contact us to discuss your project requirements with us.
Contact Us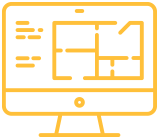 SKILLS
Our in-house team has the ability to offer a complete range of services for your unique and bespoke project from start to finish.
DISCOVER MORE
WORK
We have years of experience in designing and building creative projects. Please check them out...
DISCOVER MORE
Featured Projects
The White Building
The contract was awarded to FSL by a joint venture between Hampshire's biggest housing association and one of the country's largest house builders, it involved taking a redundant 1930's art deco locally listed building in the centre of a new development and turning it into 96 luxury apartments.
View Project