Fagerhult
Expansion made relocation necessary, FSL worked with Fagerhult to identify a suitable space, created a brilliant design, carried out all fit-out works and undertook the relocation exercise.
FSL selected and prepared options on several buildings which met Fagerhult's requirements and prepared initial viability options. Once terms had been agreed on the most suitable building FSL prepared a detailed design. The project involved taking two disused railway arches, linking them through a previously blocked jack arch and transforming them into the UK Head Office for Fagerhult. Two mezzanine floors were installed to maximise the available floor space. Feature ceilings and partitioning were installed to create the flexible layout that worked not only as an office but a lighting showroom and demonstration area. The finishes were chosen to reflect the setting of the railway arch with features like exposing the existing brick jack arches, one which created a centrepiece that linked the two arches and the other a useful and stimulating meeting room.
Custom joinery items such as the reception desk and a clever seating wall which turned into additional seating when taken down linked the scheme together. The extensive use of brick slips created a world leading office lighting and showroom for Fagerhult that has flexibility to keep the space usable for many years to come.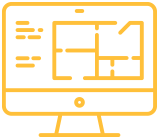 SKILLS
Our in-house team has the ability to offer a complete range of services for your unique and bespoke project from start to finish.
DISCOVER MORE
WORK
We have years of experience in designing and building creative projects. Please check them out...
DISCOVER MORE